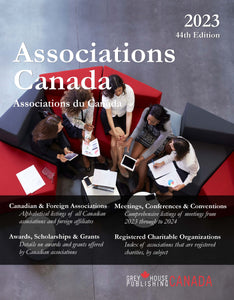 ASSOCIATIONS CANADA 2023
Regular price $489.00 Sale
Associations Canada provides the most comprehensive picture of Canada's non-profit sector, covering Canadian organizations and international groups including industry, commercial and professional associations, registered charities, special interest and common interest organizations.
This annually revised compendium provides detailed listings and abstracts for nearly 20,000 regional, national and international organizations, enabling users to identify an organization's budget, founding date, scope of activity, licensing body, sources of funding, executive information, full address and complete contact information, just to name a few.
In addition to its detailed entries, Associations Canada also provides powerful indexes to help researchers find information quickly and easily. The following indexes are included: subject, acronym, geographic, budget, executive name, conferences & conventions, mailing list and registered charitable organizations.