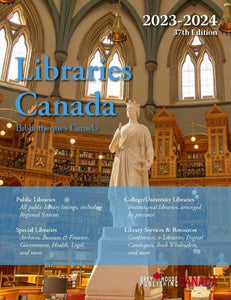 LIBRARIES CANADA 2023-2024
Regular price $399.00 $399.00 Sale
Libraries Canada brings together nearly 7,000 listings including libraries and their branches, information resource centres, archives, government libraries and library associations and learning centres.
The directory offers complete and comprehensive information on Canadian libraries, as well as valuable resources like ranking tables and a new report on Federal Government Library Closures.
Provides Important Features of each Library and Service. Libraries Canada includes important features of each library and service, including library information; personnel details, including contact names and e-mail addresses; collection information; services available to users; acquisitions budgets; and computers and automated systems.
Useful information on each library's electronic access is also included, such as Internet browser, connectivity and public Internet/CD-ROM/subscription database access.
The directory also provides powerful indexes for subject, location, personal name and entry name to assist researchers with locating the crucial information they need.
Libraries Canada is a vital reference tool for publishers, advocacy groups, students, research institutions, computer hardware suppliers, and other diverse groups that provide products and services to this unique market.